I hope you all have had great summer! Not that it would be over yet. We are at the moment in Oulu. We are staying in Paulis dads apartment almost in the center of Oulu. All boys (including Pauli) are taking a nap right now. We just came back "home" so they are tired.
Beginning of July didn't feel like summer at all since it was raining a lot and it was pretty cold. But hey, I don't mind rain as long as there is no snow :) . It's so funny how our boys don't like the rain at all. If Pancho will see from the window that it's raining he has no hurry to go out. Normally if we go to the front door they run there to go out, but if it's raining... then you have to tell them to come. Sometimes if curtains are closed and Pancho doesn't know it's raining and then we are going out and I open the door he goes as far away from the door than possible like impression on his face "are you kidding me, there is no way I'm going out" :) Thankfully then when our holiday started the weather got better. Now for more than a week it has been really hot. When we came to Oulu inside this apartment it was more than +30.. We had to open all possible windows, all 2 of them, and put a fan to full speed. Now it's much bearable, +26... Pancho and Chili has been mostly sleeping inside, maybe it's so hot for them too. Or then it's the lack of toys in here :) At home they have full basket of toys.. Some people have said that their kids don't have that many toys than our Xolos do.
We have been now 2 weeks on holidays and still 2 weeks to go; or maybe I should not say still but only 2 weeks to go. Both of our boys are doing well. Chili has matured and he is already acting more like adult sometimes; usually he still behaves himself (meaning jumping, running, biting, teasing, playing, annoying Pancho, being cute). Now if I'm sitting on the sofa Chili might come next to me to be pet or even come to my lap. Before he didn't like affection so much and he never came to our lap himself, he is way too mobile to sit still. Sometimes I have wondered if he has ADHD or something :) He and Pancho are totally different natures. Similar is that both are very reserved for strange people, but otherwise.. At home Pancho mostly looks out from the window like guarding our house and Chili is running where ever playing with whatever he can find. Which reminds me of Chilis new obsession.. If there is a pen left somewhere on the table or somewhere.. It's for sure that when you come home from work that pen has been destroyed into million small pieces. I don't know why he loves pens so much. Is it the ink smell? Once I fell asleep while doing some crosswords and when I woke up my pen was gone.. Next day it was sadly found destroyed. So now days if you come to our house and need a pen: There is none :)
Chili taking sun inside and outside the house :)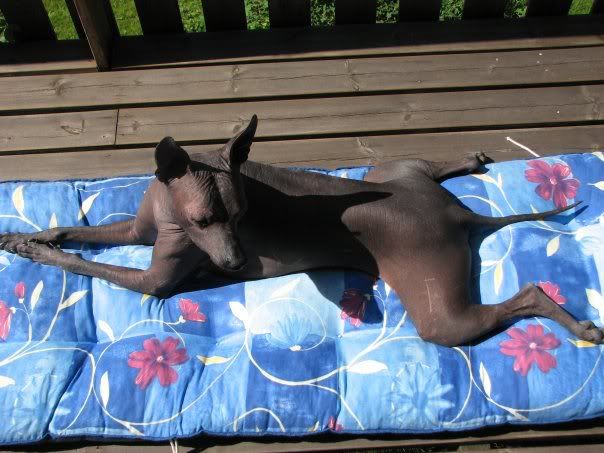 When our holiday started we stayed home for few days and then we went to Jyväskylä. My mom turned 50 so she had a party. Boys were behaving very well although house was full of strange people. Only when my uncles came with their small children we took boys upstairs to our room. They are not used to small children and didn't want to stress them when there were already so many new people. We also build them a fence around part of the yard in Jyväskylä so that they can run free there. They really loved that :) My moms flowerbeds are in the middle of the yard so it was fun to jump and run over it.. Moms flowers didn't think it was good idea. On the last day in Jyväskylä we took boys to the lake where they were chasing after ducks and loving it. Both boys enjoyed the lake but Chili loved it. He was chasing waves and drank so much water that when we were driving to Haapavesi he only whined few times and then peed inside the car, like 2 liters.. Well, poor guy drank so much water that he just couldn't hold it in :)
Pancho looking at the ducks and wondering if he could catch them :)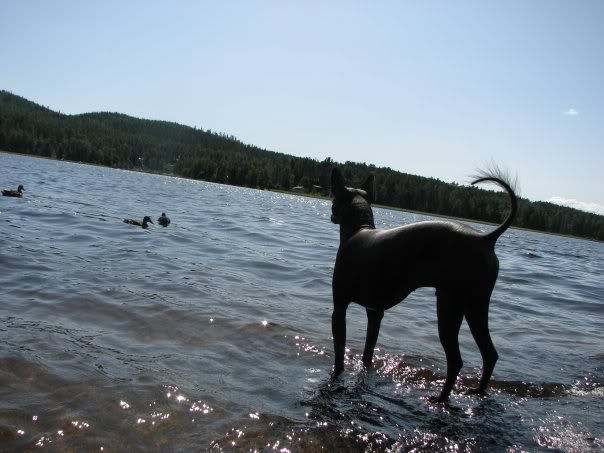 Pancho and Chili at the lake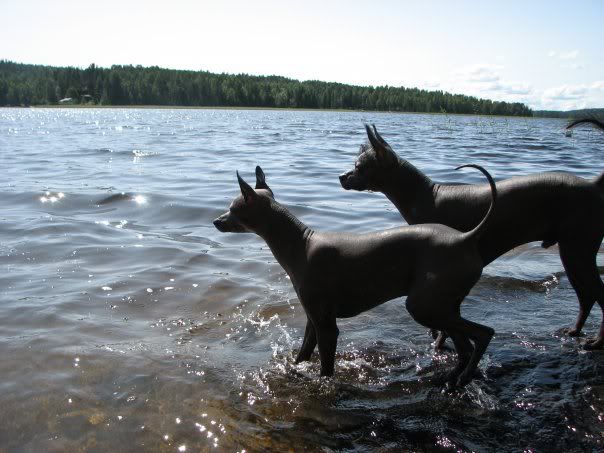 At Haapavesi we spend almost a week. We (well Pauli mostly) build there a deck to the yard. It's very nice place to sit and barbeque something and watch the sunset behind the lake. One day boys were outside with us for many hours. Pancho was helping when he noticed that Pauli was digging a hole to the ground. Pancho was enjoying himself when he finally got to dig a hole and with a permission. There are lots of horseflies and I had to kill them all the time when they were biting Pancho and Chili. I think I killed more than 20 during those hours. Then suddenly I saw that Panchos face looked a bit red. I took him inside straight away and saw that it was full of weird looking rash. I gave him allergy medicine. And then very quickly the rash went worse and his face started to swallow. He was obviously bitten by too many horseflies. If you have been reading this blog for a long time, you might remember that last summer Pancho had anaphylactic shock reaction when horseflies bite him. He is allergic to them also.  So I just hold a cold wet towel on his face for some time and watched that it didn't go worse. Then slowly it went away. I just can't stand for those damn horseflies.. They are hurting my baby :(
Pancho is at the moment eating antibiotics. He has infection in his skin. He had few of these small, maybe 1cmx1cm rashes in his skin. They just looked like dry spots. It might have been caused by us. We have been washing them with shampoo that has oil in it to grease their skin. Doctor said that it might be bad to them since it leaves the bacteria to their skin. Now we bought a different kind of dog shampoo which should be good for their skin. 
Pancho and Chili chilling in the sun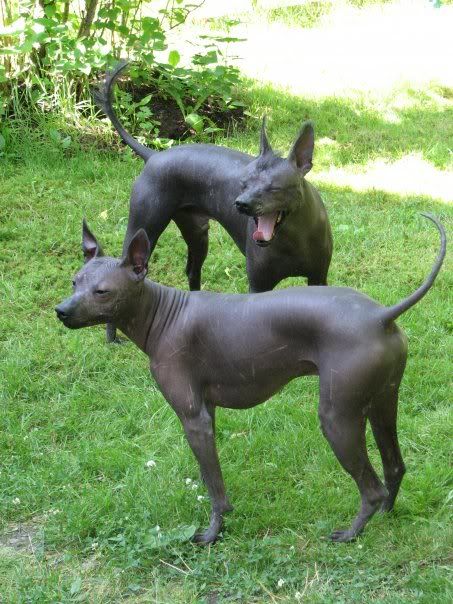 At Haapavesi Paulis mom lives on a lake so we were with boys on the lake every day. Chili has discovered that he loves being in the water. Pancho also goes into the water if you throw a stick there, but Chili goes there even without a stick. He hasn't actually been swimming but he is walking as deep as his paws are still reaching the bottom. He loves being on the lake so much that sometimes it's hard to get him away from the lake. Just before we came to Oulu he discovered that when we are on the yard he can just run away and go to the lake..Even if I was telling him not to go he just ran to the water.. Teenage rebel? :)
Other thing that he has discovered that is fun is chasing after cats.. Paulis mom has 2 cats and we are trying our best to keep them separated but sometimes they happen to be outside at the same time. Good thing is that those cats are fast :) Last Friday Chili was barking in the window and we went to see what he was barking at. The older cat was lying on the yard behind the window. Then Chili ran to the corridor and pushed one door open and the back door was left a bit open so he pushed that one also open and run outside to bark to the cat. Bad thing is that this older cat is used to dogs so he didn't run away immediately but stayed to defend himself. Chili was barking to him and he was there with his hair up. Good thing was that I ran there before the cat got to scratch Chili. This is the same cat that scratched Panchos eye when he was puppy.
Our Pancho-xolo and hairlessearlessmexicandog-Chili :)

Pancho became an uncle week ago. Panchos sister Adela got puppies. :)
We will try to update after holidays how the rest of our holiday went! Enjoy your summer! -Jozanna