This weekend it was midsummer's party in Finland. It's Juhannus in Finnish. We were in Jyväskylä at my parent's house. Friday was a free day from work so we headed to Jyväskylä already on Thursday. I picked up my sister from Hervanta and we drove to our house to pick up the dogs. Chili was very excited to see my sister.. I mean VERY excited.. He was jumping against her and then my sister was like "why am I wet". Her trousers were indeed wet. I thought it was something else but a quick smell-test proved that Chili had just made his first joy-pee :) On my sister.. Here is a picture proof with victim and offender.

We knew there will be massive traffic on the roads so we didn't go to the main roads but we took a route that was 50km more, but we could drive in peace. Travel went nicely. We had to stop few times for Chili to pee, but otherwise we didn't have to stop. In Jyväskylä we didn't do anything too special. Just relaxed with my family and ate some good food the whole weekend. Pancho and Chili seemed to be much more relaxed and calmer too because there was so much to do that they were tired all the time :) So many people to play with them. So much room to run. So many walks outside. So many new smells. We walked again to this hill next to my mom's house. We took some pictures of our boys there. They had to have shirts on because there were so many mosquitoes and it was just about to rain.
These are clickable pictures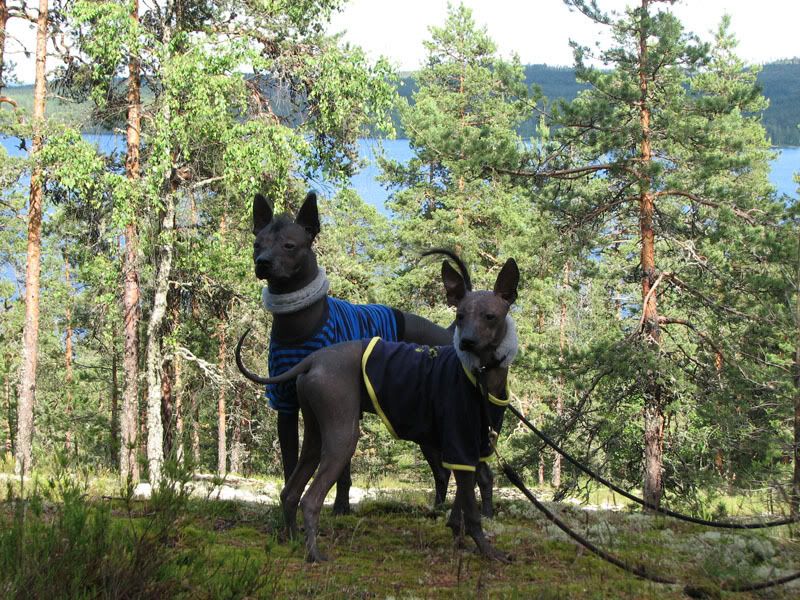 Chili's measurements from past few weeks compared to Pancho's.
Chili age 21 weeks, height 42,5cm, weight 8,1kg
Pancho age 21 weeks, height 44,5cm, weight 11,9kg
Chili age 22 weeks, height 42,5cm, weight 8,4kg
Pancho age 22 weeks, height 44,5cm, weight 12,6kg
Chili age 23 weeks, height 43cm, weight 8,9kg
Pancho age 23 weeks, height 45cm, weight 12,9kg
Now it starts to be almost sure that Chili will not be a medium, but standard size. He is only 2cm behind Pancho and Pancho is now as a grown up to ~49,5cm.
It's funny to look at Pancho's puppy pictures and compare them to Chili's because they are totally differently built dogs. Pancho was much heavier from the start and he was this strong muscle guy, but Chili is more like a Bambi (you know the Disney tale about those dears?). Their natures are very different too. Pancho has always behaved more like a grown up but Chili is obviously puppy. He is eating everything (yes, including furniture a bit…) and jumping everywhere. Here you can see one of Chili's handy work.. He had eaten a piece of our sofa when we were at work.

It wasn't me...seriously...it wasn't..

And what I told you before about Chili's behavior changing.. That did happen. He is now barking to other dogs. Not much, but just few barks like "rauhg, raugh.." Then if someone comes close then he is afraid and running behind me his tail between his legs. That's one difference with him and Pancho too. Pancho never ran away from any dogs.
I had to remove commenting possibility for some time since we got massive amounts of spam there. We have to now clean it and let's see if we put it back then. If you want to say something to us just write us e-mail to that address in the side. (xolo"at"wippies.fi) We are more than happy to read them. -Johanna