Last Saturday we drove to <?xml:namespace prefix = st1 ns = "urn:schemas-microsoft-com:office:smarttags" />Helsinki because my aunt had her birthday party. There were many people in a small place and I was a bit worried how Pancho is going to manage there. In the end it went very well. He didn't steel any food even thought there were plenty everywhere, only thing was that he was a bit stressed since there were many small children. Then we went to sleep the night to my cousins' house since it was almost 200km to home. She has 2 cats and of course it was a strange place to Pancho. You can see from his nature that he is a quarding dog. We didn't sleep much that night.. Pancho was stressed from that birthday party and then my cousins' cats walked around the house and Pancho was barking and growling every now and then.. In the morning we all were equally tired. This wasn't a good night to not to be sleeping…It was the morning of our first dog show.  
<?xml:namespace prefix = o ns = "urn:schemas-microsoft-com:office:office" />
The show took place 24th of February in Helsinki. We didn't go there with many expectations since Pancho was stressed and tired from the night. Well, the show went very very well! Pancho was so good in the ring! We haven't been practicing any poses or show walks or anything, but still he knew them. We were very amazed :) He got the price of honors (KP=kunniapalkinto in Finnish) and Best of breed (ROP in Finnish). In the big ring with all the other breeds best we didn't win :) I heard that it is very hard for hairless dogs to be doing well on that one in Finland. I don't know why, but in Finland they don't seem to be appreciating hairless dogs that much.
Pancho in the dog show, being very tired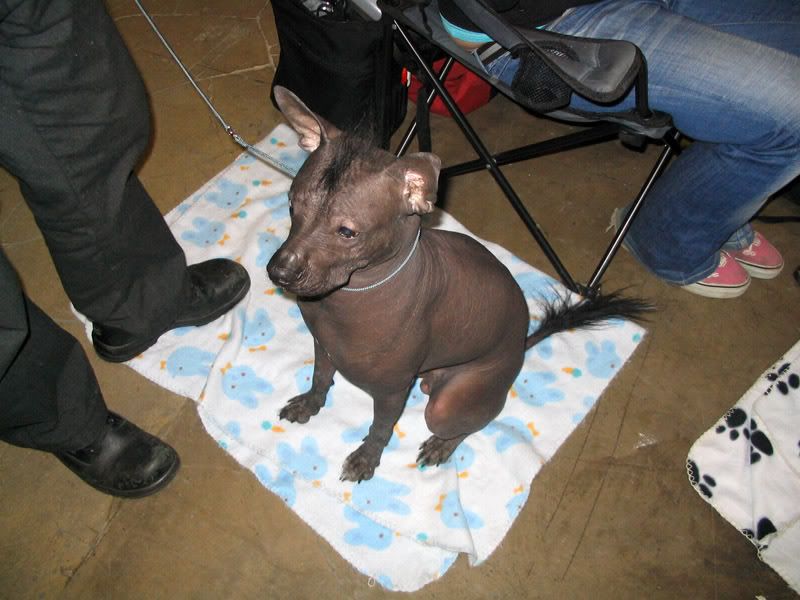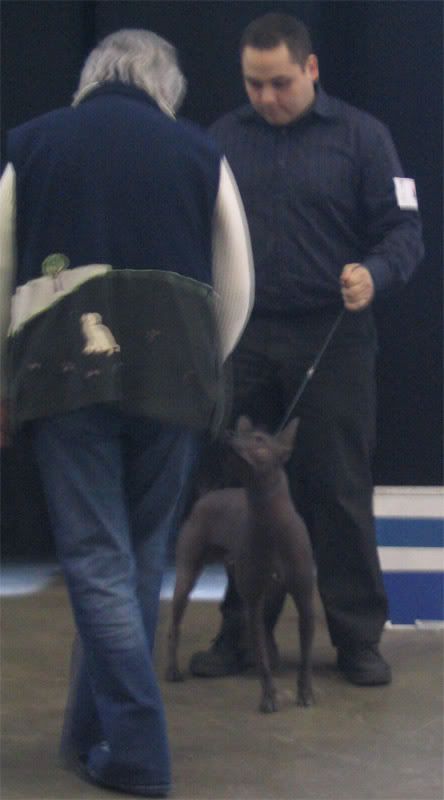 Well, first show is now over maybe some more coming some day. Too bad that most of the pictures taken in the show were too dark. We have too bad camera for that.. Now we have ordered new one which should be better!! Here are some more pictures
This is how we watch tv sometimes, he loves to be in our lap!
And here is how I'm in computer many times..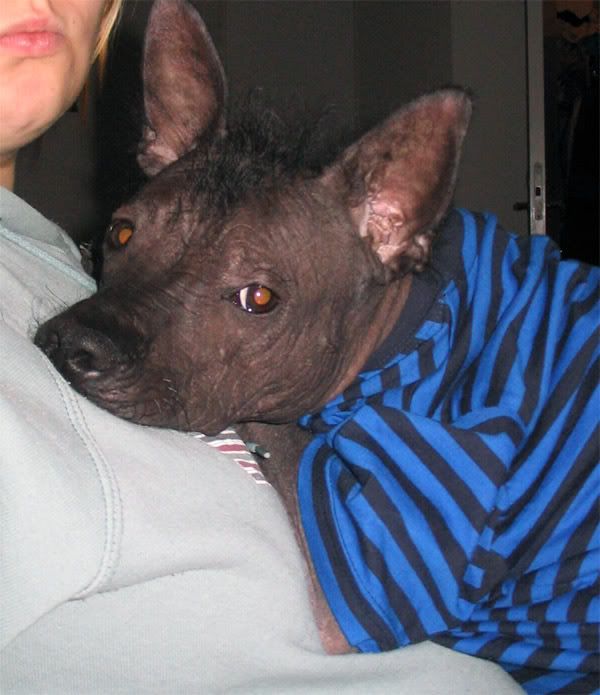 -Jozanna