We had nice weekend! Weather was nice and we were out a lot.  Saturday it was a bit colder but Sunday was -0,5, so not wet and not cold either, just perfect.
On weekend Pancho was everyday in the dog park. On Friday there were not so many nice dogs for him to play with, but some. This was his first dog park experience that he was humped by someone else than Pontus. There were two bigger dogs that humped him all the time. He really didn't like that. Well, I didn't like that. Of course it is dogs' language to hump one another, but when it's nothing else but that it's not ok. Gladly Pancho has such a character that he is very calm. When he will have enough he will say it. One of those dogs was a bit scary because it was so protective for his owner. When ever some dogs approached her the dog got really aggressive and wanted and tried to attack. We were a bit scared because Pancho is such a people dog. He always wants to go say hello for every human in the park so we left from the park because we really didn't want Pancho to be attacked by over-protective dog.. 
On Saturday morning we went to have a really nice walk in the forest. My friend from work came with her boyfriend and their flat-coated retriever Senna. (Memory: Senna was the first dog Pancho ever saw when he was living with us. Senna was a puppy also and the meeting didn't go so well then. Senna was already huge and Pancho was only 9-10 weeks then, so he was small. Pancho was scared of her, but she was only friendly and tried to play with him. It ended up Pancho being afraid and sitting in our lap only.) Now when they met: first it looked a bit the same. But it was because Pancho is a bit slow to be excited and Senna is not :D Senna wants to play immediately and jumps around like "JIPPIII, new friend, play with me, jippiii, let's run, comooooooon, let's run, I will lick your face, Jippii snow, new people, life is so fun". For beginning Pancho always looks from distance and sniffs and smells other dogs to be sure it's safe to approach. And we were in the forest were the path was really narrow because of all the snow. Pancho doesn't go away from the path; he doesn't want his feet to be in the snow.  It was really funny, because all the people were walking in the path and Pancho was all the time trying to get ahead of us. He couldn't step out from the path, so he was always just walking behind us and when we stepped out from the path he went in front of us. On the other hand, Senna was having a blast running in the forest and jumping in the snow. Then the path ends to this big parking place in the middle of the forest (because on summer there is a swimming place). Senna and Pancho was playing together. It was really nice to see that Pancho was not afraid of Senna at all, even though she is much bigger than he is. Pancho is about 45cm and Senna about 61cm. They played for a long time and it looked funny, because Pancho was standing at his back legs and trying to bite Sennas ears and face and then they were running.. And soon Senna realized that if she goes to the forest away from the parking place, Pancho didn't follow her. The forest became her safety-place J It was really nice to see them playing, it was really friendly! At the evening, our boy was so tired.. He wanted to sleep and relax. The snowy forest with new friend must have been a lot for him.
On Sunday it was the best weather! It was only -0,5 C so it was nice and warm. On morning we went to dog park, but there was no friends for him. We just threw a ball for him, but he wasn't too interested about that. (We should buy him a new ball since he has already broken this one. It doesn't make any sound anymore). Then we walked to rent a movie and store. The store was full of people since it was fathers' day and no other shops were open. Then at evening we went to have another longer walk. We were supposed to go to dog park, but there was no one so we continued walking. He surprised us and pooped on new place in the middle of walk. He usually poops only to his own places or to dog park, now he just did it like big dogs! I was so proud and happy! It is amazing how one can be happy about someone's poop… :D We went to one empty parking place were we let him run free. We threw him a stick.. He liked to try to pick that up, but he didn't quite manage.. It was a fresh branch and it smelled really bad.. He always tried to take it to his mouth but it smelled and tasted so bad that he couldn't. Or then he carried it for some meters and then dropped it and barked to the stick. I was laughing so that my eyes were wet. I never imagined how much fun and laughs one small xolo can give me!
This is how weekend should go.. Doing nothing special, just being with each other and friends!

Here are some pictures from that trip to forest:
Pancho really didn't leave the path at once. Senna was running in the forest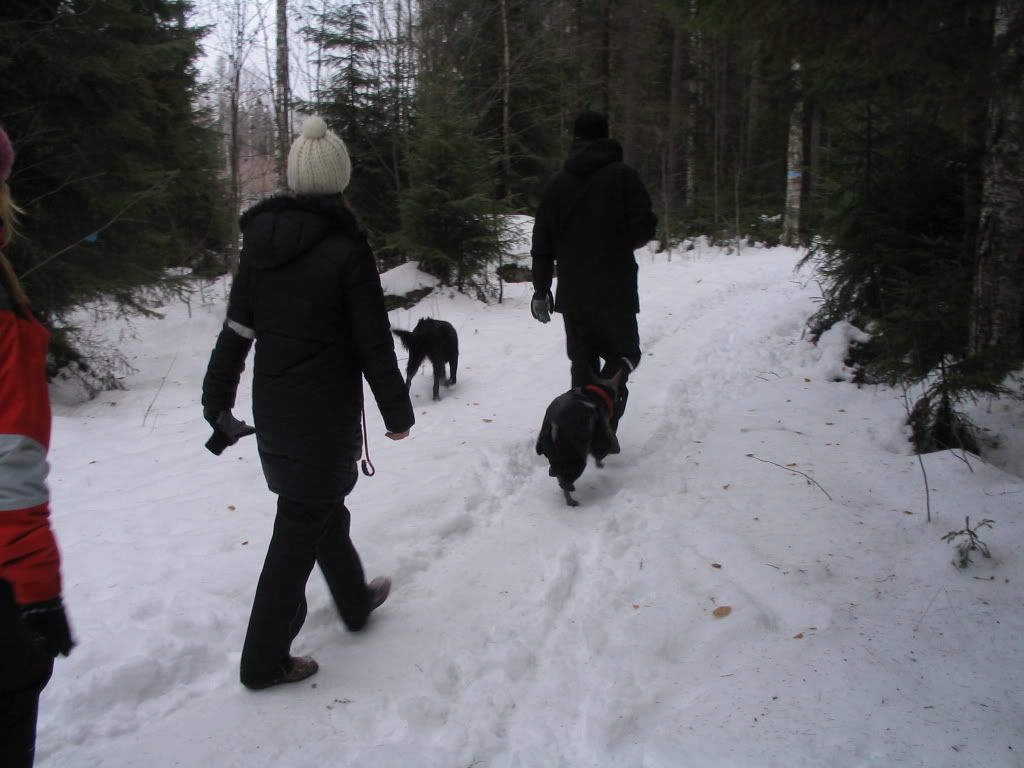 ...And then we ran..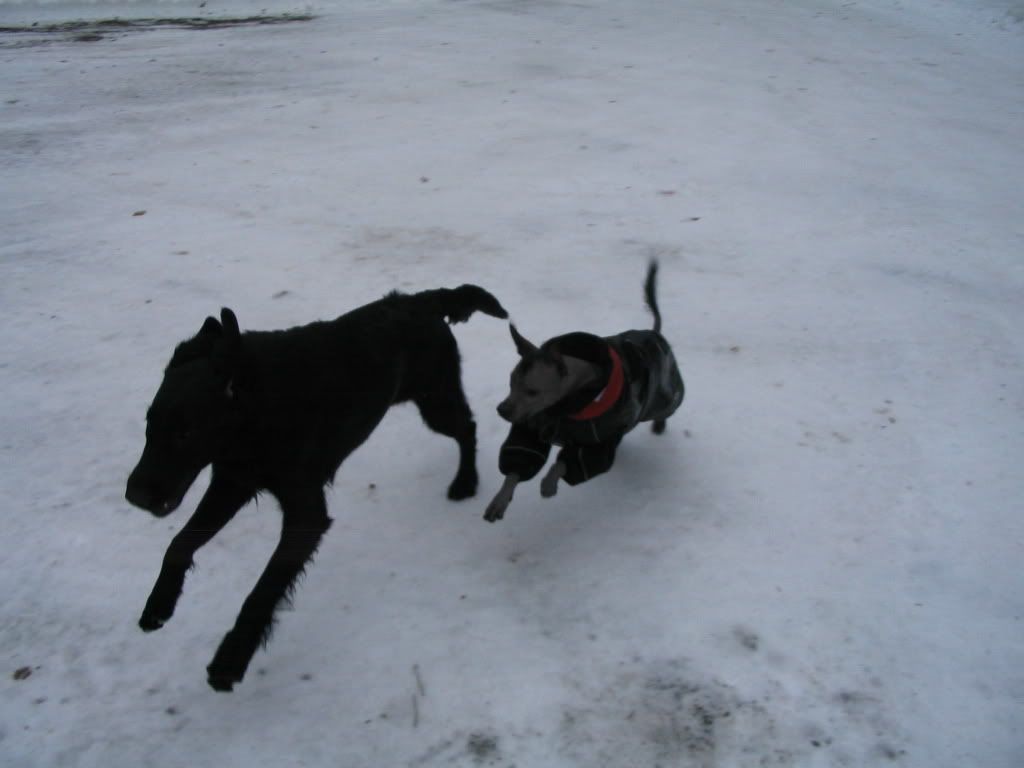 ...And then we played..
...And then we knoked out innosent viewer..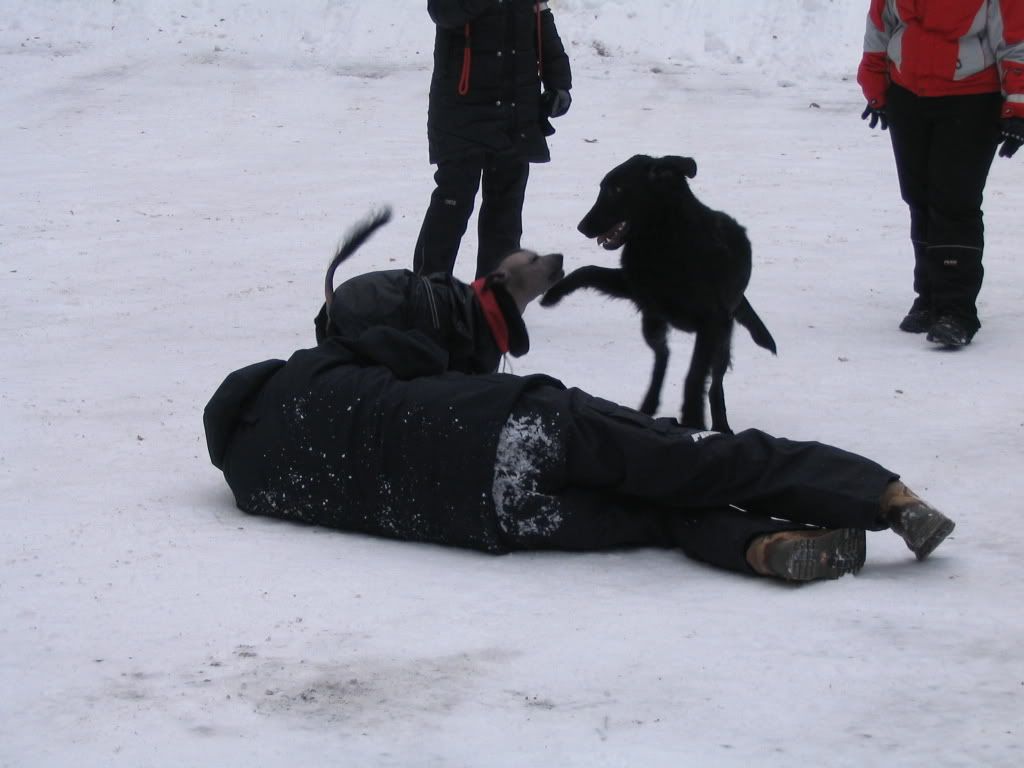 ..And when Senna felt tired it was Panchos turn to strike!

..But it was fun! -Jozanna