Pancho really has been a demon for this evening. Biting and running and... I think it's because he does not get out much. We want to keep wind out of his eye. We caught him on the bed today, he is not allowed on the bed, but he sleeps and plays in it when we are away. Today we came from work and opened the door quietly. He did not have time to get out of the bed ;) He had woken up and was standing on the bed listening like: "Hmm. Did I hear something from the door...". So he was still standing on the bed when we entered our flat. He did get down fast when he realized we were back.
Here is a picture of Pancho's eye, taken a few minutes ago. You can see the damage on the corner of his eye. Eye is open at all time and is working. He does not scratch the eye so everything seems to be ok.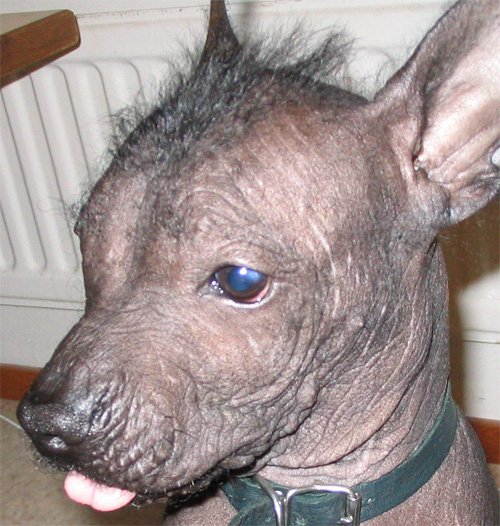 We have a appointment to a vet tomorrow for follow up on the eye, we will write news as soon as we get back. I think that at 17:00 we will have something here.
Oh, dont worry about the stupid look he has and the tongue. He was just waiting for his food to warm up and I was bothering him. ;)
-Rafu