Long time no news from us here. Sorry. We have had so much to do and then our internet didn't work for almost a week. Here is finally how our holiday went:
13.7 – 20.7.2007 - Our last working day before holidays was on Friday 13th of July. I went to a concert of my friends' band. Pauli had to stay with Pancho so that he wouldn't have to stay alone after 8 hours of working day. Then on Saturday we started the fixing of the bedroom and that took the whole first week of our holiday. Pancho was wondering what on earth we were doing behind closed door. "Why can't I come?" We didn't mind doing that renewing since it was raining outside. We had to move our bed into the second bedroom and then we decided that Pancho can sleep in our bed during the fixing. He didn't seem to be so impressed of that honour since many nights he went into his own bed. Maybe we were kicking him in our sleep or then it was just too hot.
Here is how our bedroom looked before the renewing (notice that old wardrobe, horrible wallpaper and plastic floor):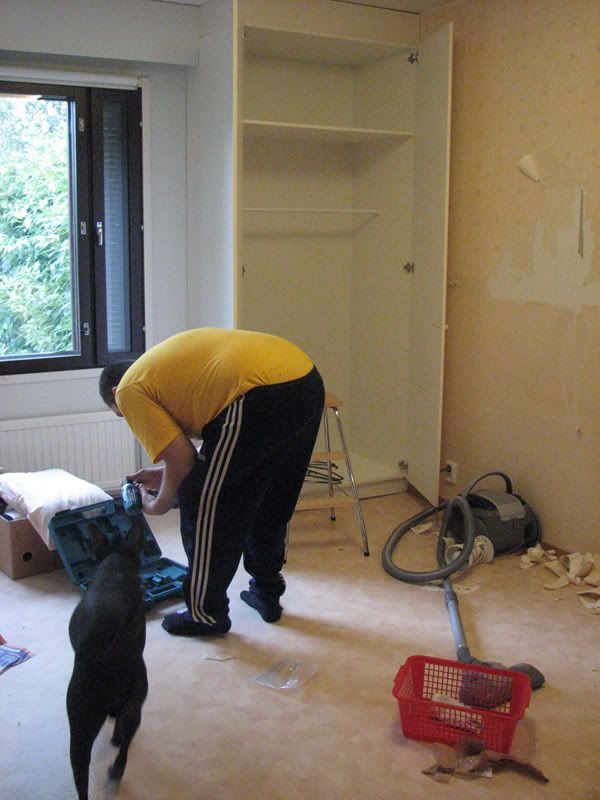 21.7.2007 – 22.7.2007
– On Saturday 21.7 we went to a cruise to Estonia. My sister Susanna came to be with Pancho. Our trip was excellent. The first night we have ever been away from Pancho. It really felt like holiday. I can imagine that mothers and fathers feel the same when they leave their kids: It is fantastic but still you are worried how he is doing. When we came back I asked from my sister how it went with Pancho. She said fine except that he wanted to go out all the time. My sister thought that he might have his stomach ill or something. I had forgotten to tell her that some bitch is in heat next to our house and Pancho wants to go out all the time because of that... My poor sister had took him out so often that when I came home and took him out there was not a drop of pee left in him even tough he tried to mark some trees..
23.7.2007 – 29.7.2007 – Beginning of the week went again renewing that room. Then on Wednesday we went to Jyväskylä. My parents went motorcycling to the northern Finland so we had to go there to look after my youngest sister (who is already 14) and to water the plants. Pauli has started to run with Pancho. This hobby is called canicross. They both seem to love that hobby and they were running also in Jyväskylä. It was nice that the weather wasn't yet too hot. We like around 20 better than around 30 :). Pancho loves to stand on the terrace of their house. He just stands there and watches if there is anyone walking pass the house. He looks quite funny when he sticks his head from middle of the fence : )
My parents came home on Friday 27th when it was my mothers' birthday. I made a cake and baked something else also for her and for Pauli whose birthday was on the next day 28th of July. We were celebrating also that one year ago we got our sweet baby boy Pancho!

Pancho being a man...trying to go inside of my sisters blouse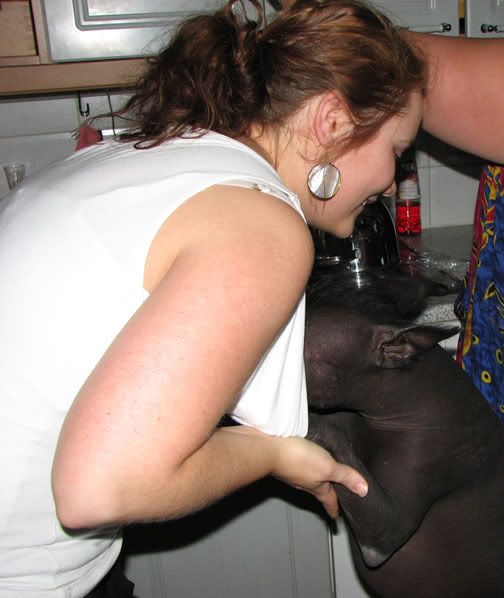 Here Pancho is having one of his kiss/hug attacks. His kiss-attacking my mom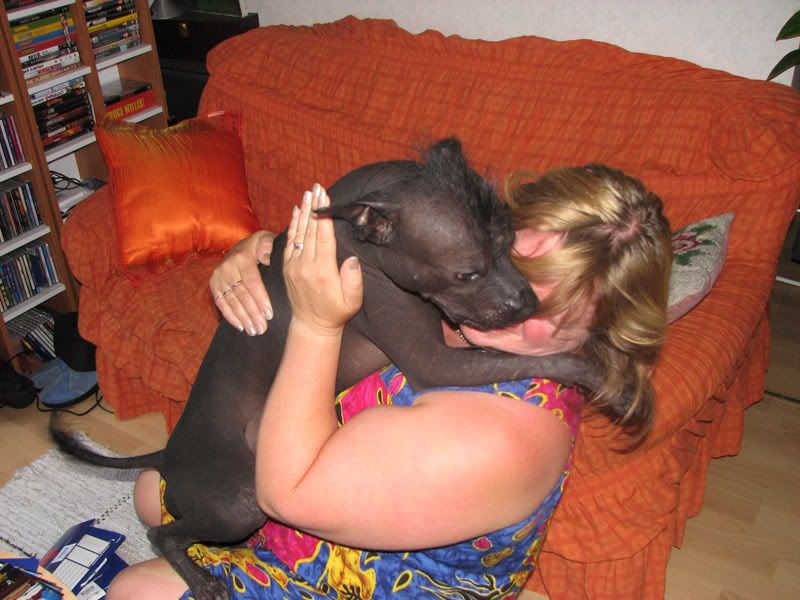 On Saturday we left from Jyväskylä and droved to Oulu. We went into Paulis' dads' apartment in the centre of Oulu. That is a place were all 3 of us enjoys being. Me and Pauli love Oulu since we have been living in there for 4 years and Pancho loves it because he can stand in the sofa and look down from the window for all the people passing by in one of the main streets of Oulu. He doesn't even bark for them; he just loves to see them. We had some walks in the centre of Oulu with Pancho. People in there seemed to be more wondering our naked dog than people here in Tampere. Pancho was a very good boy when walking next to us in the centre of the city. There were lots of people and lots of cars and he walked very nicely; even thought he was a bit afraid.
30.7.2007 – 5.8.2007 – On Monday 30.7 we went to Hailuoto. It's very nice island next to Oulu. It's over 30km long and there is no road going there. You have to take a ferry to get there. The ferry trip lasts for half an hour and it's free. We drove there at night and the weather was beautiful. In the skyline you could see that some storm clouds were coming.
This is the ferry to Hailuoto. Our Saab is the first car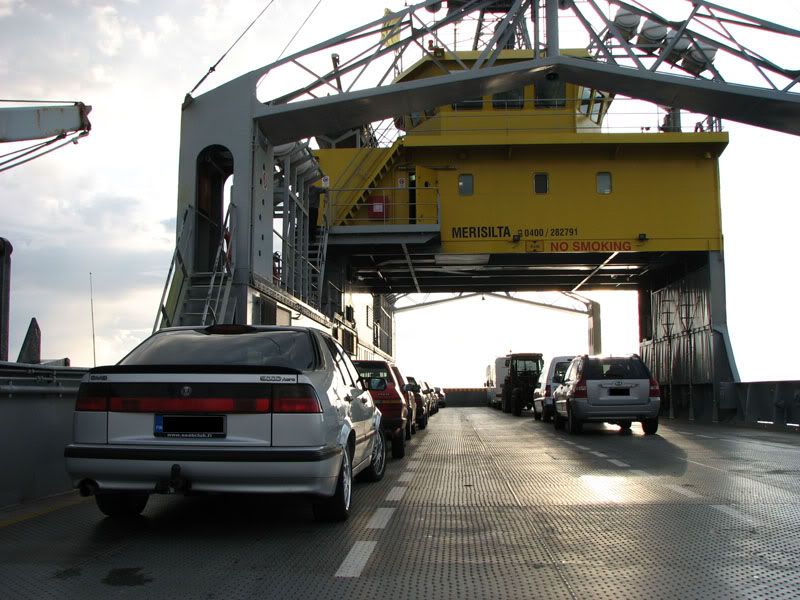 View from the ferry into Hailuoto HERE

Here are me and Pancho in Hailuoto sands. Notice those rainy clouds coming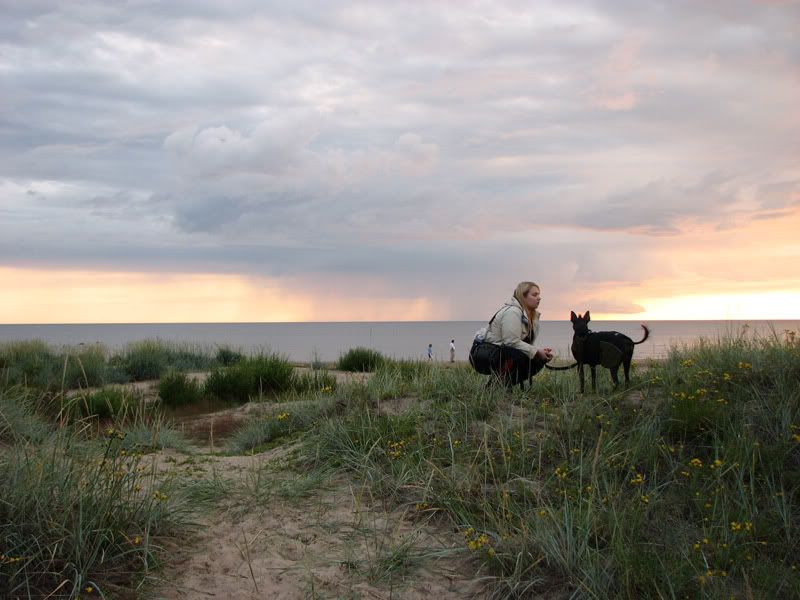 Here is nice photo of Hailuoto at night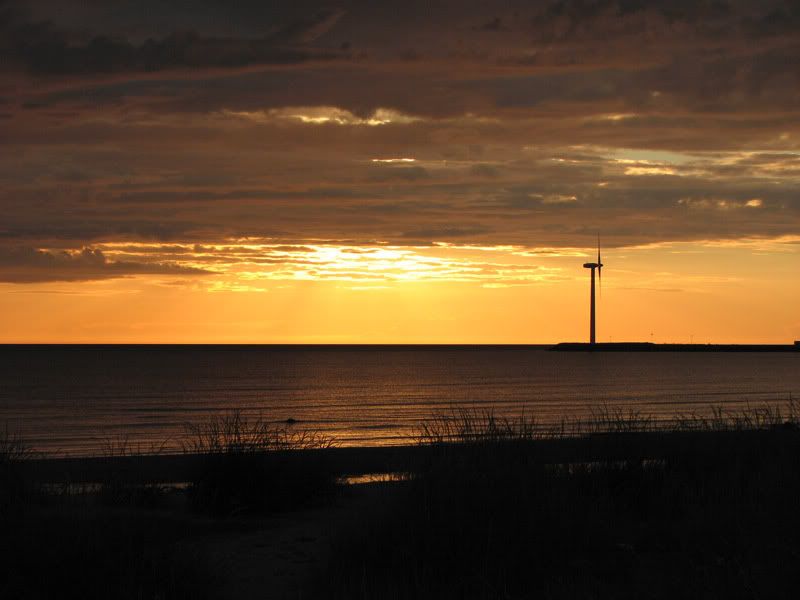 Another view of Hailuoto at night HERE
We had decided to spend the night there in a tent. Panchos' first night in a tent. We put our tent a bit more far away than all the other people were since we thought that Pancho might be barking at them all night. It was good thing that we did that. First when we went into the tent he was barking to anything that moved or made a noise. Then Pauli told him to calm down and then he felled a sleep. We were sleeping in our sleeping-bags and he was wearing his fleece-overalls. Everyone was happy. Then in the night it started raining really badly. We were very dry in our tent but when we had to wake up and put our tent away we were wet like we would have been in a shower. We went to seek for 2 geocaches in Hailuoto and managed to find both. Then back to Paulis' dads' apartment and a hot shower for everyone.

On Tuesday we travelled about 120km from Oulu to Haapavesi to Paulis' moms' house. We found one geocache from Haapavesi too.

Pancho was making "friends" at Haapavesi. Here he is barking to Oto-cat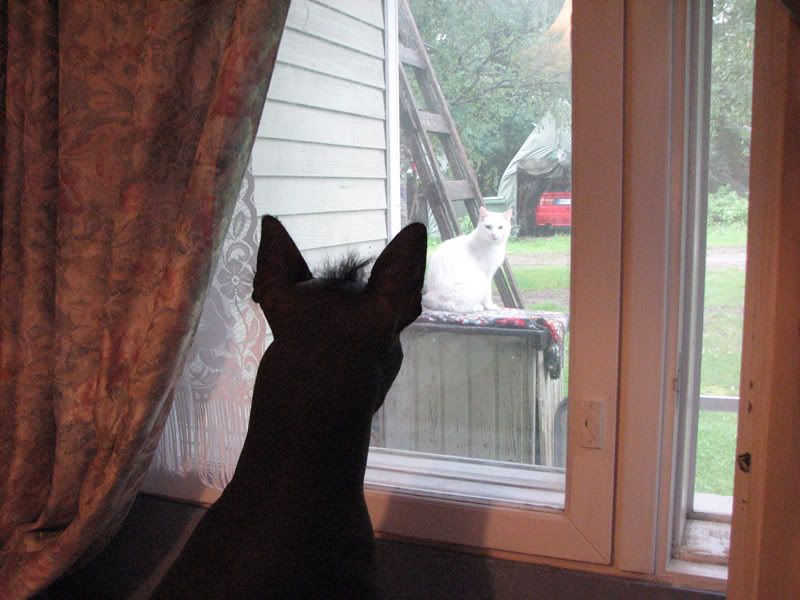 Then on Friday we left from Haapavesi in the morning and we had planned a route back home where we will search for caches along the way. I think we found 6 and 2 we didn't find. This is the best hobby! Pancho can be running free in the forest and we get some exercise. It's not usually very easy to find these caches. It takes time and patience. We have tried to teach Pancho to smell these caches. For now he has not been any help. We know there are many geocache-dogs in Finland who can smell caches. On Saturday my mom and step dad came to help us finish the renewing of our bedroom. On Saturday we installed a photo wall paper into one wall. Then on Sunday Pauli and my step dad Mikko installed oak parquet to the floor.
6.8.2007 – 12.8.2007 – On Monday we rented a trailer and made a 170km trip to Vantaa Ikea. It's a big shop where you can buy furniture etc. We bought a new wardrobe and some other stuff. Then few days later the room was ready. Finally!!!

Here is almost ready room. Still something missing. But at least you can see that photo wallpaper and new wardrobe and new floor and painting.

On Thursday we went to that same camping place we were earlier. We went there with my sister Susanna and our friend Johanna and Pontus. Weather was very nice; over 30 degrees. We were swimming there. Even Pancho and Pontus was swimming and they both seemed to like the water very much. Then we were barbequing some sausages. We were there many hours and dogs were playing a lot. We even found a cache from there!

Pancho at the lake

Pancho and Pontus playing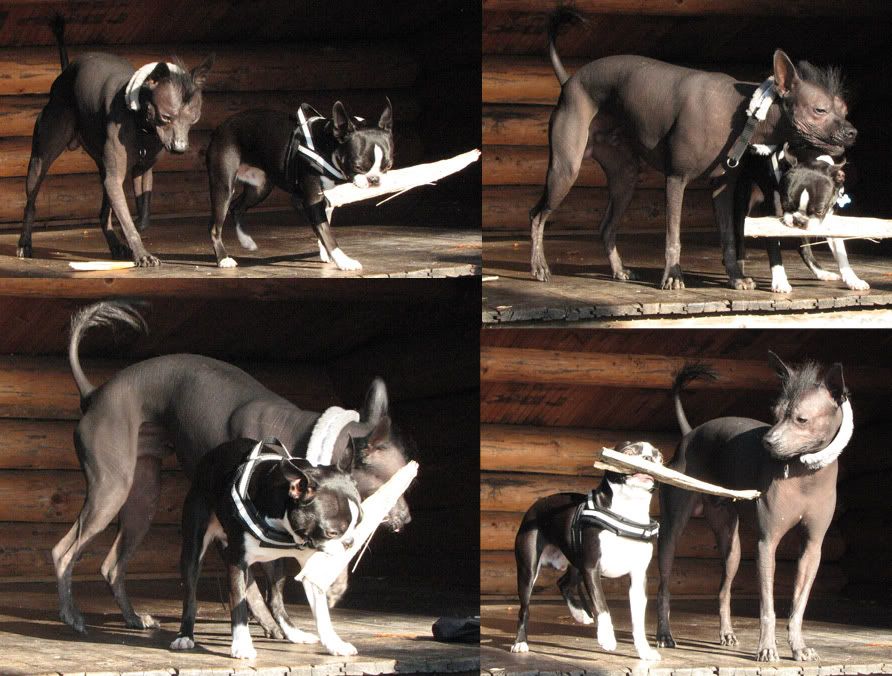 Then on Friday I and Pancho went out with Johanna, Pontus, Salla and Milo. We went into the forest and planned to go to swim. We made it into the beach and dogs were swimming a lot. Suddenly Salla noticed a lot of ants. They were crawling at Milos feet. They were standing in ants nest. Ants bitted Milo so they had to go home. We stayed and had a lovely walk in the forest. Then in the evening Johanna, her spouse Tuukka and Pontus came to barbeque to our house. We had a very nice evening while dogs were playing. Not a surprise that when the food was carried into the table dogs stopped playing and they looked very concentrated.. I wonder why : )  On Sunday it was raining a lot! Because it was our last holiday we decided to go geocaching. We searched 5 caches. It took us more than 5 hours in the forest. Pancho was very excited about the terrains. There were lots of hills and gravel pits. He loved to just run them up and down, up and down.. It almost seemed that he was making fun of me since I was very tired. We also met a monster..or that is at least what Pancho thinks. We were driving one small road and Pancho was in the back of the car in his own boot. Then there was a horse with a rider in front of us. They stopped next to the road and we passed them by. When we had passed them they moved back into the road. Pancho noticed this huge monster who started to chase us and started barking to them! And growl. All kinds of monsters there is in the world…
Some scenery pictures along our summer holidays:
HERE1
HERE2
HERE3
Today was our first working day. We were a bit worried how he manages to be alone at home since he hasn't been practising that much when we had our 4 weeks of holidays. We left him home with a bone and a Kong. He had been barking fore some hours, but it wasn't a panic barking. More like bored.  Today we went to geocaching also. We planned to search 3 caches but nature deciced  otherwise. We walked into one island and it was full  (and I mean FULL) of angry ants. They were biting Panchos legs and I had to run away with him. We didn't find that one.. We have to come back some day when it's raining.

That's our summer holidays said shortly. I know this was not short but as short as I could put it. All these pictures you can find a bit bigger from HERE. I hope you have had a good summer too! -Jozanna