Chili came into hour home!
On Thursday 28.2.2008 Johanna drove to Helsinki to pick up a new family member. She had agreed meeting on 3 o'clock but she was so excited that was there already 2 o'clock. They met on Ikeas parking place.
:)
After a long hour sitting in a car waiting another cars owner to come from shopping she finally arrived. She said "hi" and showed Johanna the cutes thing! It was Dulce. He was so small and so scared! She was in this cutest pink picnic basket looking basket and Maria (the woman who brought him to us) picket him up. He has gray and yellow sweater on and Maria put the hood on because it was cold. Dulce was trembling because he was so scared or cold. I took him to my arms and it was love from the first moment! I took him into my car because I didn't want to keep him outside for long. When I started driving back home Dulce was weeping and wining in his basket. But if I put my finger to him he started biting it
:)
I continued driving and when he noticed that wining doesn't help he started biting the basket where he was in. After that he started biting his towels and blankets. I knew he will be quite a character.
Who: Tecuani Dulce Muchacho
What: Mexican Hairless Dog, (Xoloitzcuintle) intermediate
From: Kennel Tecuani, Moscow
Sex: Male
We came home Pauli and Pancho was just having a walk. They just came in when we arrived. I opened Dulces basket and Pancho went to sniff him. Dulce seemed to be cautious but not too scared. Then he ran out and sniffed Pancho and then came to me.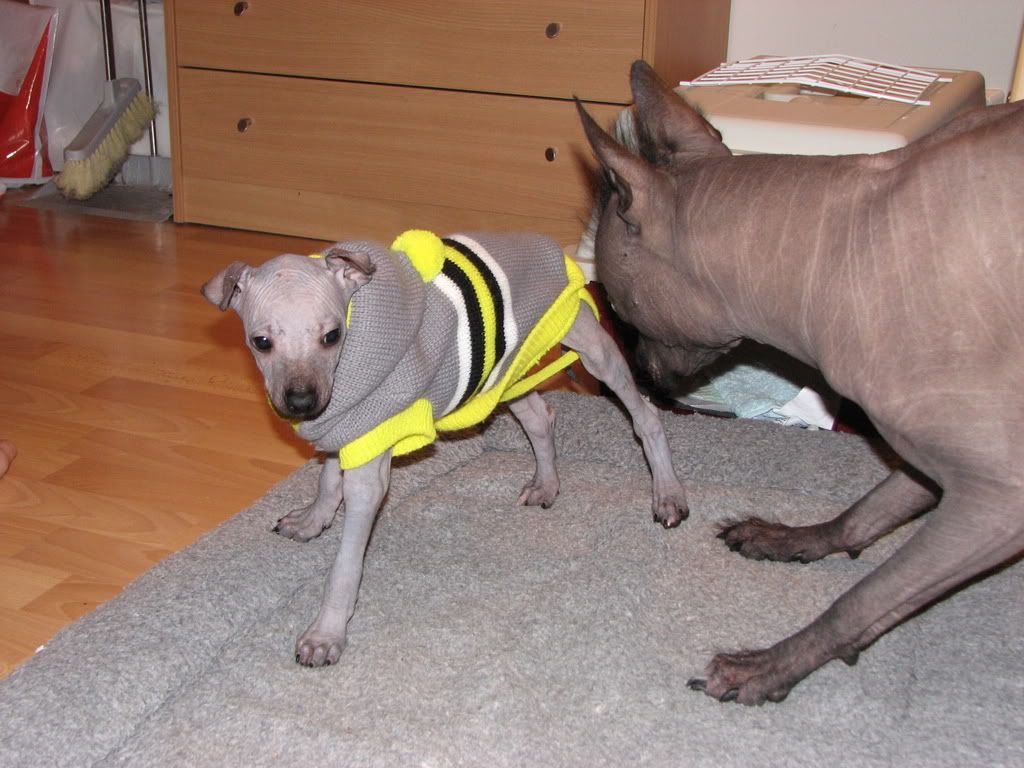 When we saw him we knew right away what we are going to call him. We had few options in our minds but it was quite obvious then. We are going to call him Chili. He is such a spicy puppy that it was very easy decision.

First day went quite well. Pancho kept a good distance to Chili. He wasn't quite sure what this small fast creature was. He was a bit scared. Chili seems to be very brave and active. He is running around the house searching all places by himself and playing himself. His favourite thing is to run! His run looks funny because he doesn't yet control his legs so sometimes his back legs go a little bit faster than the first ones. He does his poops always to the papers but he is peeing sometimes into the floor. Mostly he does that to the papers also.
Second day was well too. The night Chili was sleeping on his own in his own bed on the floor. He was wining only few times and when I gave him my arm he started sleeping again. He woke us up around 7.30 in the morning. Pancho seemed to be more interested of Chili. He was following him from room to room.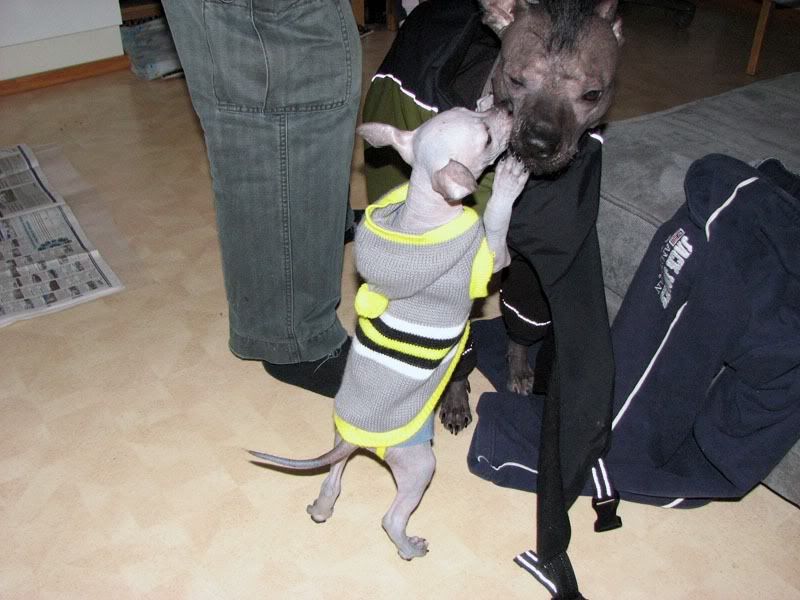 Today we went outside a bit. I made him overall so that we could start learning going out now that it was warmer day. He took only few steps on the snow and then he wanted to go in.

Today Pancho and Chili has been more together. They are following each other and it seems that when Chili is sleeping, Pancho is sleeping too. I think it takes lot of power from Pancho to follow what this small one is doing all the time. Sometimes they are chasing each other from room to room. It seems that Pancho is Chili's idol. It's like Chili would be Pancho's groupie :)  Today Chili learned to sit down from command. I asked Pancho to sit and Chili followed what he did and did it too. Now if I command them to sit they both sit nicely. This is so wonderful! I'm just a bit worried about tomorrow when we have to go to work for the first time. We are planning to do it so that I'm going to work one hour before normal and Pauli one hour later so that they don't have to be alone more than 6 hours. I try to do shorter day if I possibly can and then next week I will have some holidays and then easter week we are both on holiday!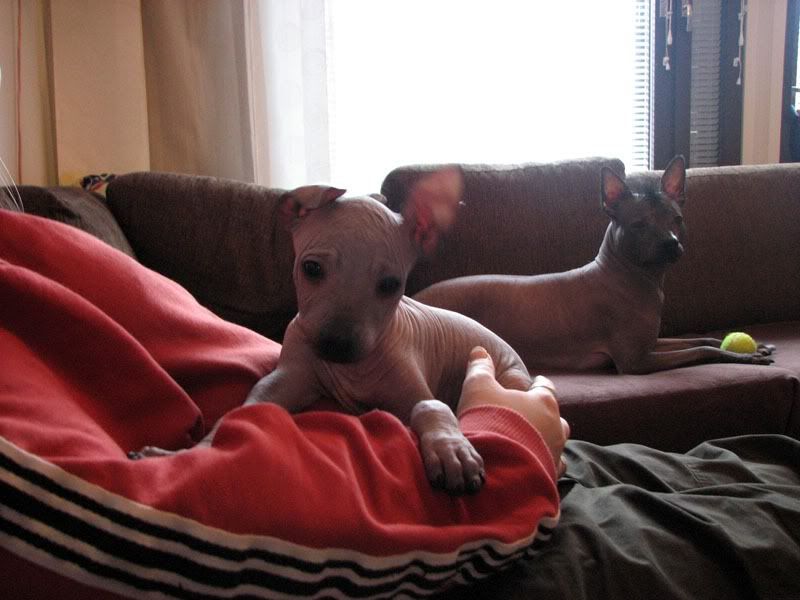 We took Pancho to a vet on Friday. He had eye infection again. Doctor explained that he has something that young dogs sometimes have. His immunity is reacting too strong on dust etc on his eye. Washing with pure water daily will help in the future. This usually passes when over two years old. Doctor gave him drops and it seems that his eyes are much better already.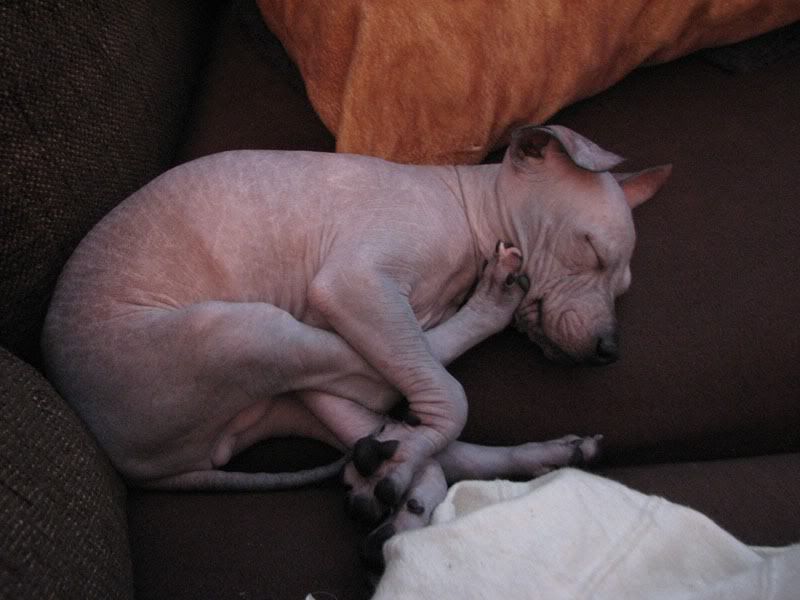 Now it's time to go to sleep so good night to everyone! Talk to you later! - Jozanna