We have had a nice week. It has been warm: about +5 everyday even thought it is end of November. Pancho has enjoyed that he doesn't have to wear thick clothes every time we go out.
We have not been in dog park for few days, because all the snow has melted and whole park is vet mud, not very nice..
On Thursday it was measuring day again. Pancho has not grown height at all from last week. He was 45cm still. I hope he has not stopped growing! I love him just this size, but for the dog shows this height is not so good. The limit for big Xolos' is 45cm, so he barely is a big one. But he is just few weeks older than 5 months, so he should still grow.
Yesterday someone had put a note next to our corridor. It said something like "You dog owner, take your dog to a day-care if it is barking when left alone. etc. "I don't know if that note meant us, because it didn't say to whom it was. I have never heard Pancho barking when left alone. He never barks when we leave and it doesn't matter what time I came home, he is not barking at all. I think we need to record voice from our apartment when we are not home, so that we can know was it Pancho. If it is he, then we have to figure out what to do. . It has to stop then. We might try this D.A.P., (Dog Appeasing Pheromone). It should help for dogs that bark alone or feel unsafe. Well, we'll see what to do.. This is not very nice. I hoped that he wouldn't be making noise when alone.
Yesterday Johanna (this girl I met in the dog park) and her dog Pontus were here in our home. This was the first time some other dog visited our home. It went really well I think! They played for over 2 hours! We tried to watch a movie in the same time, but actually I don't remember much about the movie.. It was too fun to watch them play and run. They were drinking water at the same time.. It was so sweet! They were playing so much that for the first time I saw that Panchos' tongue was out for the first time. I had to take picture so that Pauli would believe me  :)(Pauli was bowling with his colleagues'). I will put here some pictures and maybe a video link also. This morning it showed that he was really tired from yesterday. Usually he always wakes up at latest 07.00 because it is his breakfast time. Today I woke up first.. And the clock was over 11. He loved to sleep this morning.. And one reason might have been that we let him sleep in our bed… I know… we are slowly slipping into the situation that he is always sleeping in our bed… I know… :)
Hour ago we went to have a walk with Pontus and Johanna. We were also in the dog park and the ground was vet and muddy. I had to take Pancho to shower after we came home. He doesn't seem to hate showers that much anymore. If I manage to lure him into the bathroom he might walk himself under the shower with the look in his face "ok, let's get this over with soon.." I love my clean naked boy!
Pancho and Pontus playing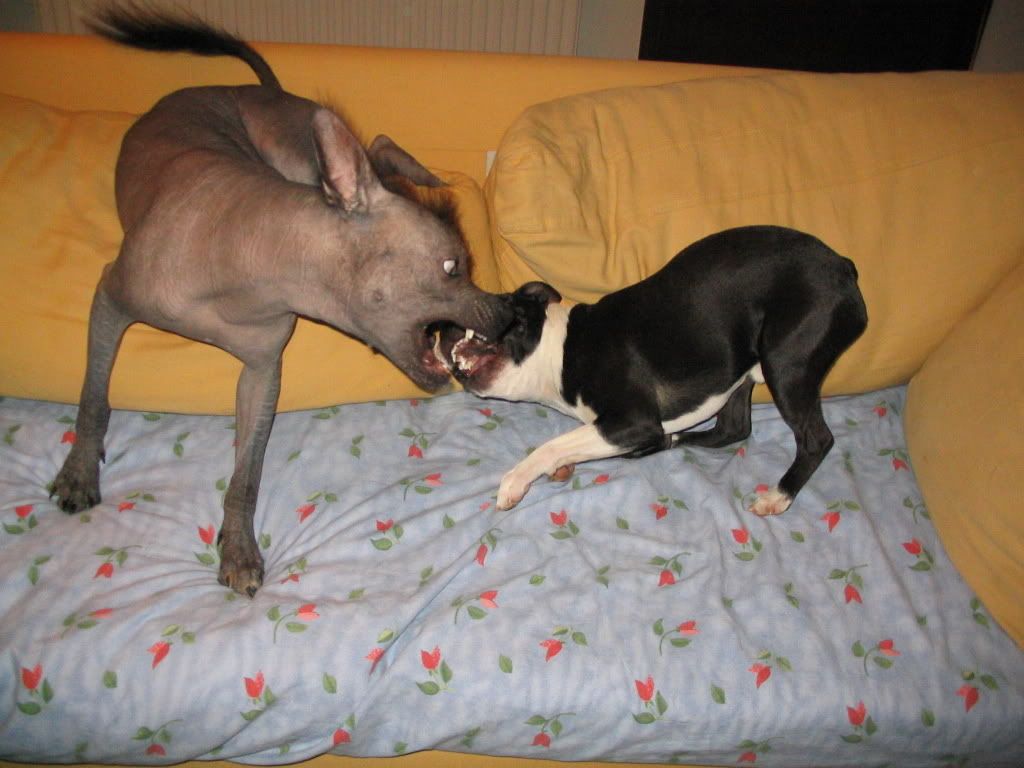 Pancho and his tongue
Evil dogs :)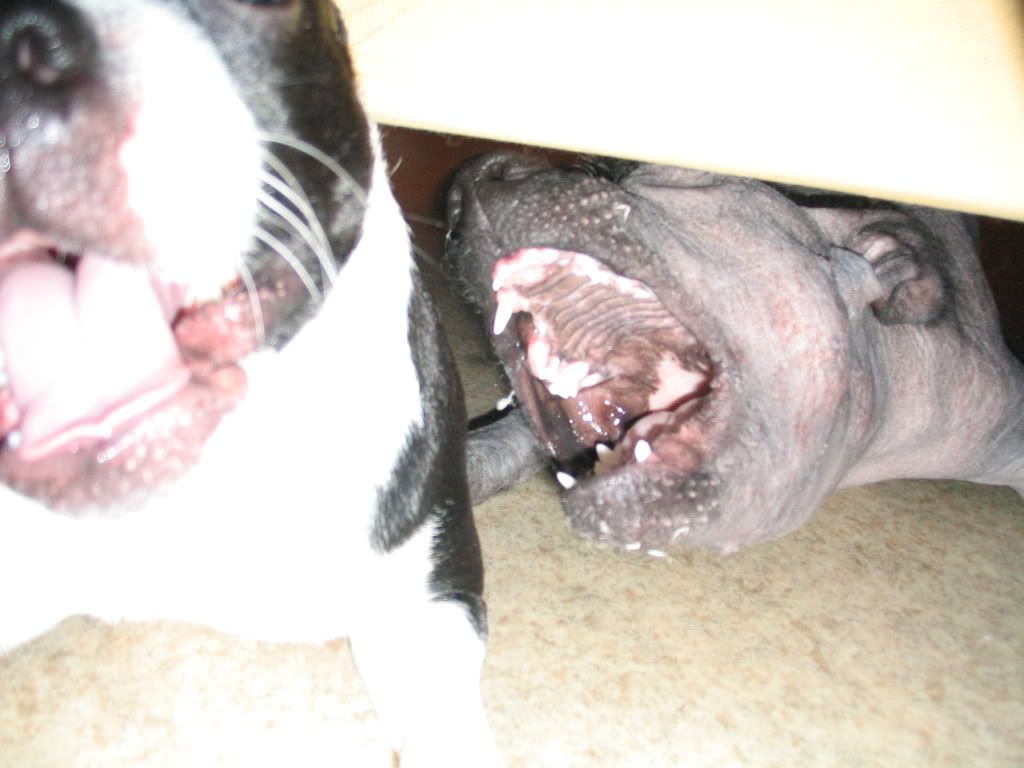 Pancho killed his toy...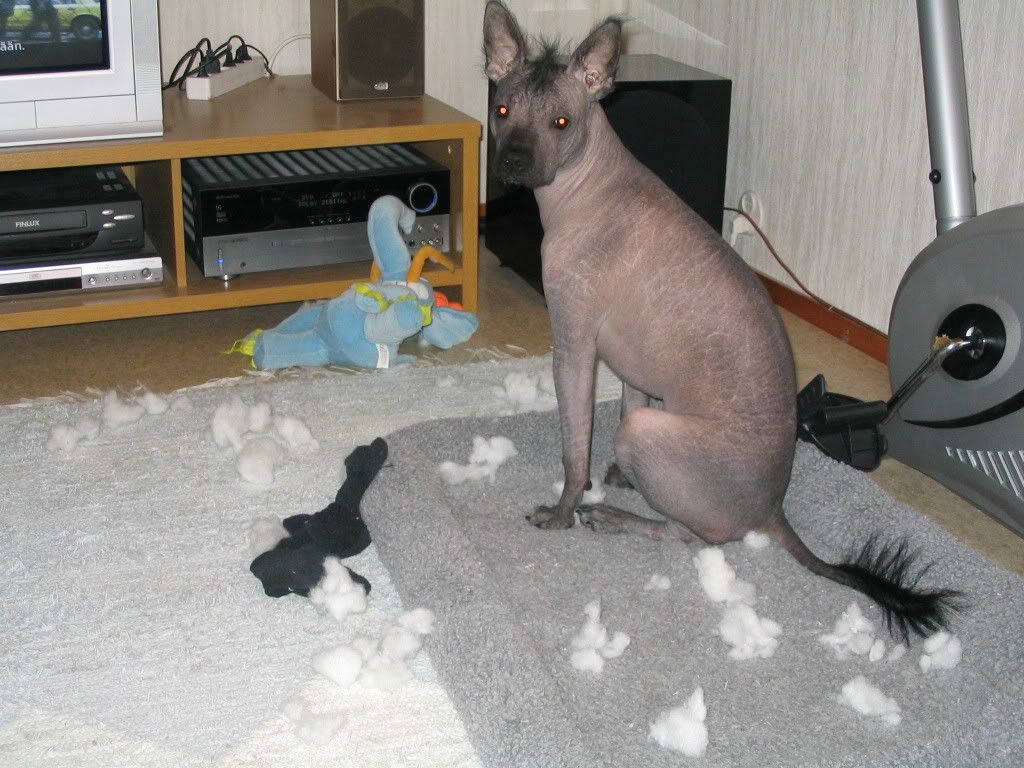 Bad quality video of Pancho and Pontus playing. Here

-Jozanna