Actually this is really the second, or firt if you count only the ones that are spent totally here. We came here on thursday after Rafu's dentist. Pancho has enjoyed the large yard with lots of plants and difference in height. Pancho runs all over the place up and down the slopes. there are also lots of new smells to explore.
Pancho exploring new surroundings in Muuratsalo.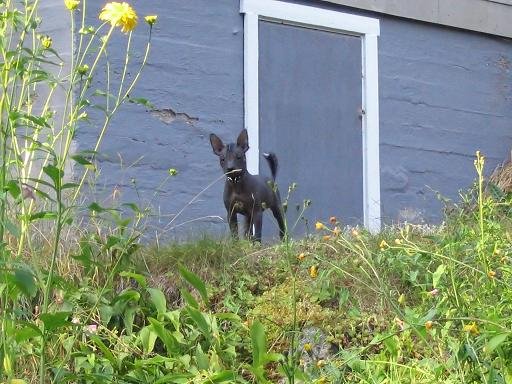 Yesterday we were on a trip to Imatra. Joz's stepfather bought a motorcyckle. The one in the picture actually.
Kawasaki 1000GTR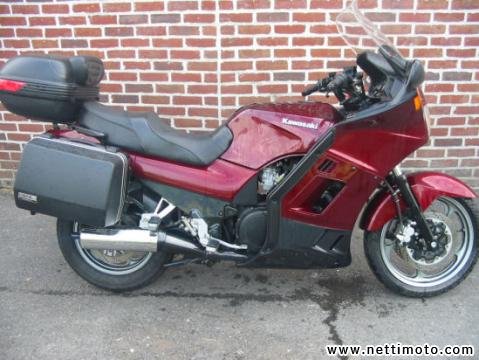 We also visited Imatra and went to see the rapids. Pancho was not so impressed by the huge amount of  water passing to powerplant.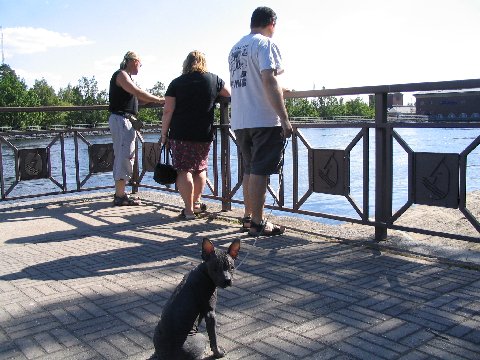 Pancho was very calm the whole trip sleeping in his own space in the trunk, our car is a Saab 9000 Aero and there is a good spece for the dog as the car is a "semi" stationwagon. We made a tinting in the backwindow with a cardboard so sun would not annoy him. He seemsed to appriciate that and the fact that we stopped every 150km to strecth our legs and to let Pancho pee.
Pancho met first dog after he was separated from his sister. It was a Bordercollie from the house where we went to see the motorcyckle. He did not seem to be very scared when the other dog came to smell him. He was stiff and let the othr dog sniff him. After the other dog left he went back to his own business wich at that time was playing.
Pancho trying to sleep after playing..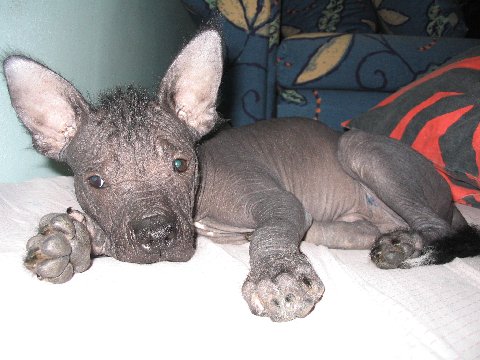 Yestarday evening we went to sauna and pancho joined us. He was totally ok with water that we poured on him. He was lying on the seat for some time before going to cool down in the dressing room. We have no photos of thos cause sauna is so humid that our camera would probably not like it there.
Pancho sleeping with jozanna. He went there himself.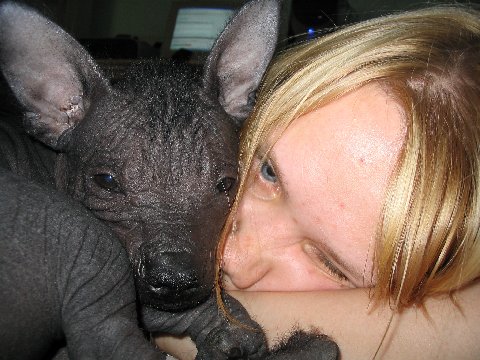 Little by little Pancho is learning that he should pee and poop outside. Today he made a accident on a rug but yesterday he made it outside every time. Biting is getting a bit bad, we have a new technique that seems effective. We turn our backs to him if he bites. Hopefully he understands that it is not a behaviour that is accepted. He is really sweet also, we have been sleeping on the floor while we are on the trip and he has slept with us. That he is not allowed not do when we are at home.
Pancho looking to the kitchen after a small biting attack.. ;)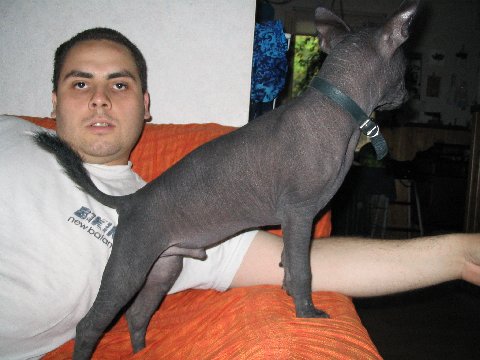 -Rafu