Today we were hiking with out friends. We went to one place where a kind of Laplander's hut is on the top of the hill. There is a camp fire inside the hut. Dogs were running free and we made a fire there. We grilled some food there and then made coffee on the fire. It was very nice and Pancho and Milo got some sausages too. We were lucky that no one else came there. It is public place so every one can use it. It was much nicer to be with our own group. This was a perfect trip! And dogs enjoyed a lot; as did we also.
Pauli, Pancho and me
Pancho and Milo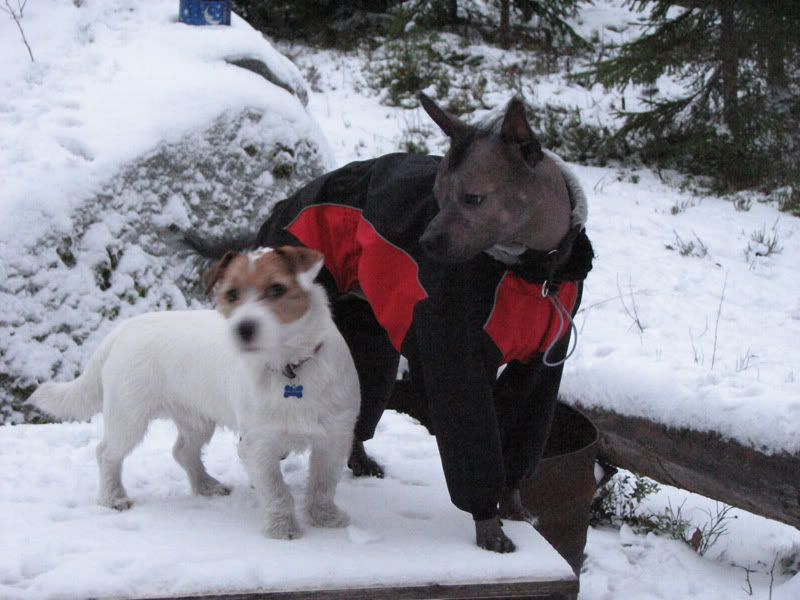 Pancho is doing very well. At this moment he is behind me sleeping in his own guard chair. He is spending his days in the window sitting in this chair which is in from of the radiator so it's warm. It has been about -10 degree in here. I don't think that the cold is bothering him too much since he has clothes on when we go out. One night we came home from a walk and suddenly Pancho's side crumpled. Then his ears went down and his tail went between legs and he started whining. Then we realized that his muscle behind his front leg was cramping. I called to Nina (the owner of Pancho's sister Adela) who is dog massager. She told me what probably caused that and what should we do. This was probably because one day before it was only -3 and now it was -10. So the change in the weather might have caused his muscle to cramp. The muscle stopped cramping very soon. We had Sauna on so we took Pancho with us to the warm sauna. Then he was wearing a shirt the rest of the evening. Pancho many times comes to sauna with us. He likes to be in the warmth for a while.
About week ago we were walking in the forest with Pancho and Pauli. Suddenly I heard something behind me. I turned and there was a dog running to us maybe 4 meters away. I screamed to Pauli to take Pancho into the lead but too late. This dog was already there. He started to growl to Pancho and of course Pancho growled back. I was sure it will be a fight. We didn't see people anywhere. This dog must have run from far away to Pancho. Then Pancho and he was growling and going around each other. Pauli was trying to separate them but he didn't want to put his hand in the middle of them so that he wouldn't accidentally start the fight. Then suddenly Pancho jumped on the other dogs back and started to "dominate" this other dog (Suddenly Pancho was humping the other dog..). At this point Pauli lifted Pancho from his clothes and faster that I could sigh from relief the other dog disappeared to the forest. We never saw his owners. It was a scary moment but thankfully nothing happened.
Yesterday we visited Pontus. He had a birthday. Pontus became 2 years old. Because Pancho and Pontus haven't seen each other for a long time at first Pancho had to growl to Pontus when he tried to bite Pancho's ears. But evening went well.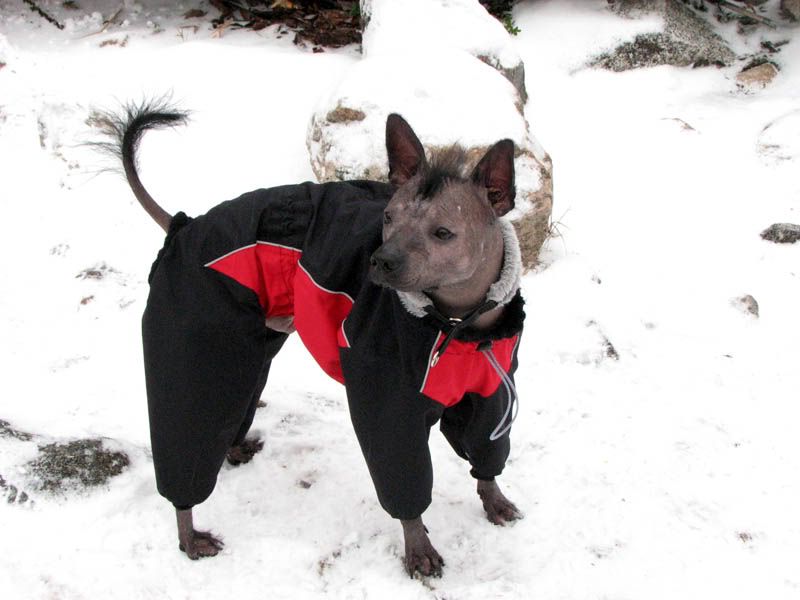 I think this evening Pancho will be very tired. Yesterday playing with Pontus and today the trip and playing with Milo have made him tired. -Jozanna