Last weekend it was midsummer here in Finland. Friday was holiday from work, so we left already at Thursday to Haapavesi. Trip was fine. We were there late, but not much traffic since we drove there so late. It was ok weekend. Pancho was out a lot and ran free all the time. It seemed that at least he enjoyed being out.. He tried all the time to run away from us inside the house.. He was there opening doors so that he could go out. That opening doors is not very good habit for him..

Pancho standing (too bad that lead is there in the picture)
Two things I really didn't like this weekend: lots and I mean LOTS of mosquitoes and very cold in the evening. I think the temperature dropped to +4, which is very cold for late June.

View to the lake next to Paulis' moms' house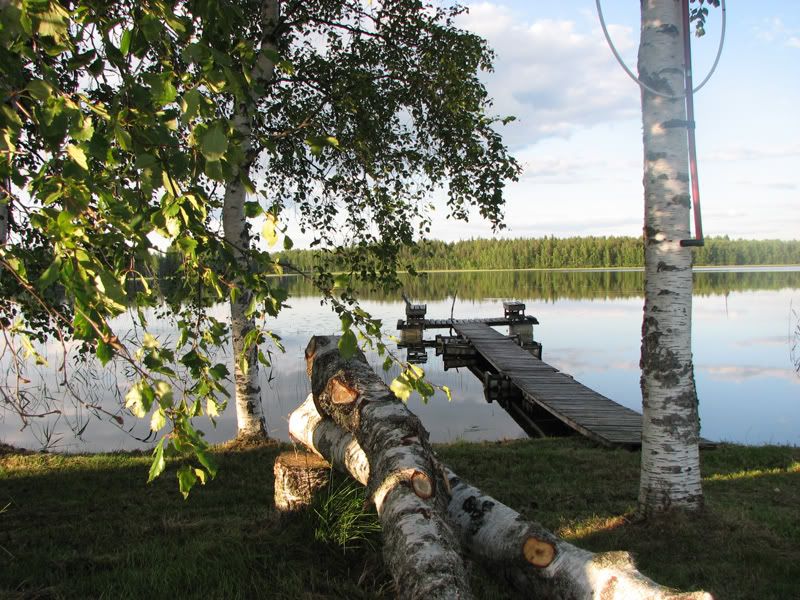 On Saturday Pancho got to play with 3,5 months old puppy. Apparently he does very fine with puppies. At first he approached very carefully showing who is boss, but then when he realized that the other one was a puppy they were playing and running for long time. It was hot day and when they were playing the puppy ran into the water. Of course Pancho didn't want to follow, but when the puppy came out from the water to play with Pancho he had to run away: "He's wet; he's wet….jaaaaiiiikkkks…"
Pancho didn't want to swim (bigger picture here)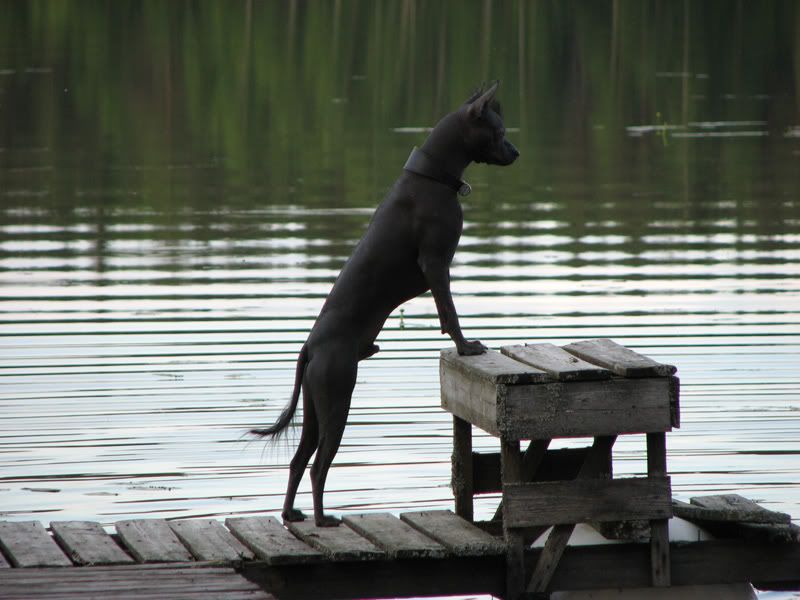 We burned big fire too what belongs to Finnish traditional midsummer party; kokko in Finnish. Pancho wasn't too afraid of the fire. I think he enjoyed the warmth of the fire because it was already very cold that time of evening.

Fire is already smaller than it was... :)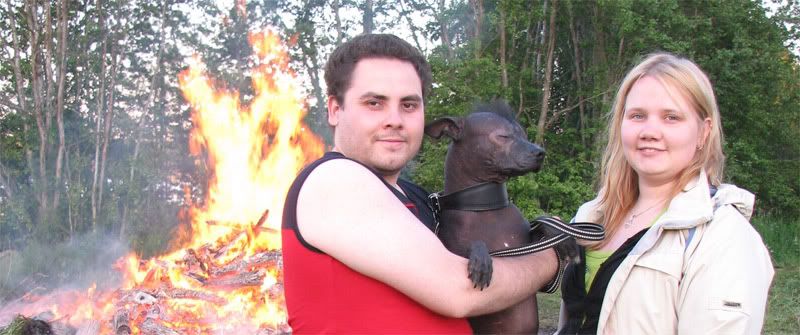 Pancho had some rash around eyes; because we tried some other food for him (at least I think it was because of that). Now we have gone back to the same brand, different flavor and the rash is almost gone. I think I soon have to contact one woman who promised to take pictures of Pancho. I have seen her pictures and they are very good! I'm very excited about that! -Jozanna