Moving is done! Saturday 24th we carried all our stuff into our new home. Last week we spend in our old apartment cleaning and changing the wall papers into bedroom since Pancho had destroyed the wall a bit.. Finally on Sunday 1st of April we left our old apartments' keys' there and now we have only one home!
Pauli and Pancho in our yard taking sun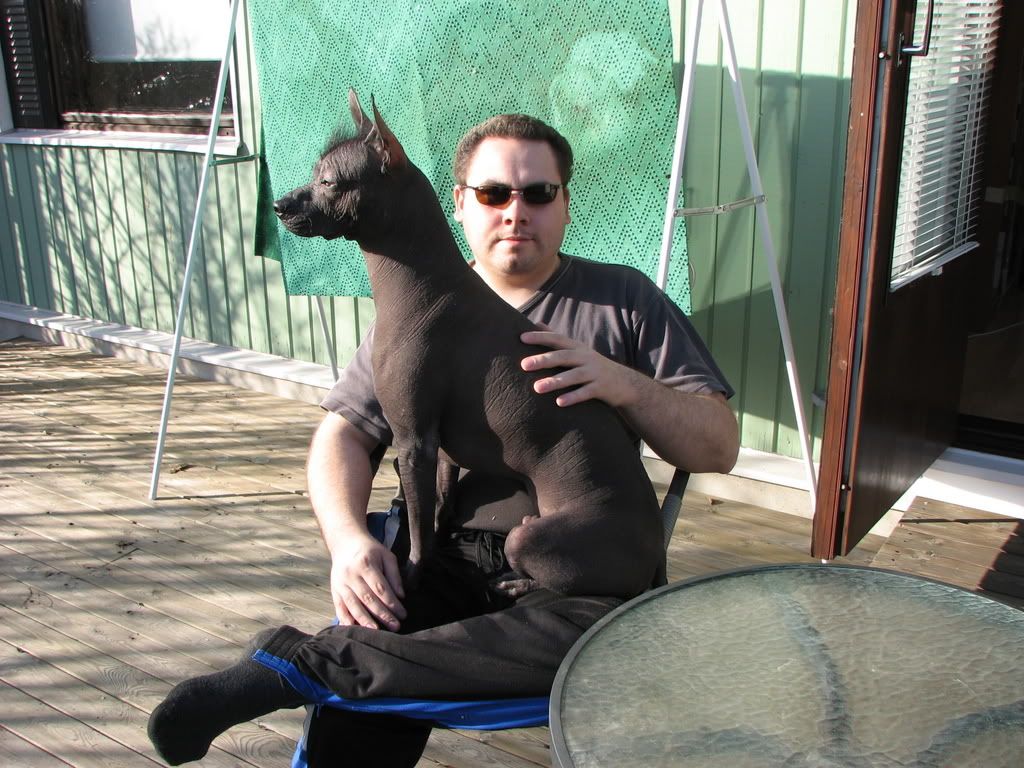 Now we can focus on unpacking all our stuff. I love our new home, but Pancho doesn't so much.. He stressed the moving a lot. For a week he was not himself.
Tired moving-dog sleeping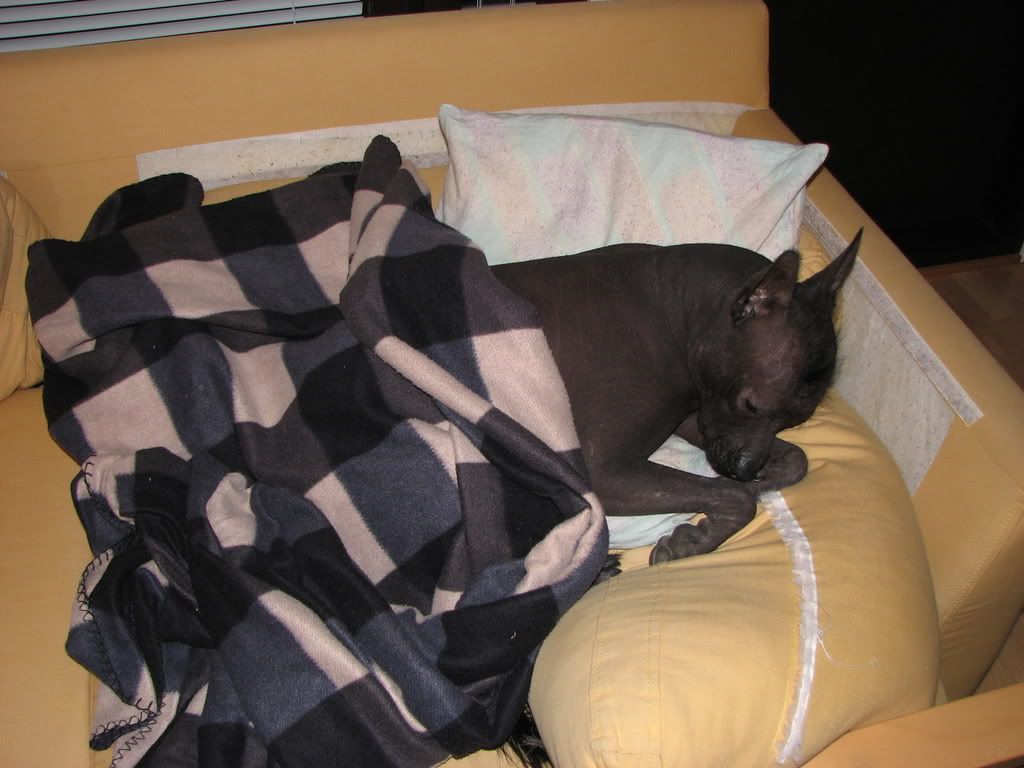 When we have to leave him alone when we go to work it's not going so well.. He is screaming and barking a lot! He is in BIG panic when left alone. We have tried to open the curtains, close the curtains, lemon collar, radio on, and even leave him with treats. Nothing seems to help now. I think the thing what would help is time and I think he would be happier if he could stay into the whole house. Now we have closed him into our bedroom, since the whole apartment is full of boxes. One day we tried to leave him into all rooms except kitchen. We tried to stop him from going to kitchen by putting there lots of boxes in front of the kitchen area… When we came home it was quite obvious that he had been in the kitchen… It was like tornado would have been inside our house.. Our shades from our door had been destroyed and the floor was full of stuff. Nothing important was broken and we were very happy that he hadn't hurt himself.
Shades what Pancho destroyed..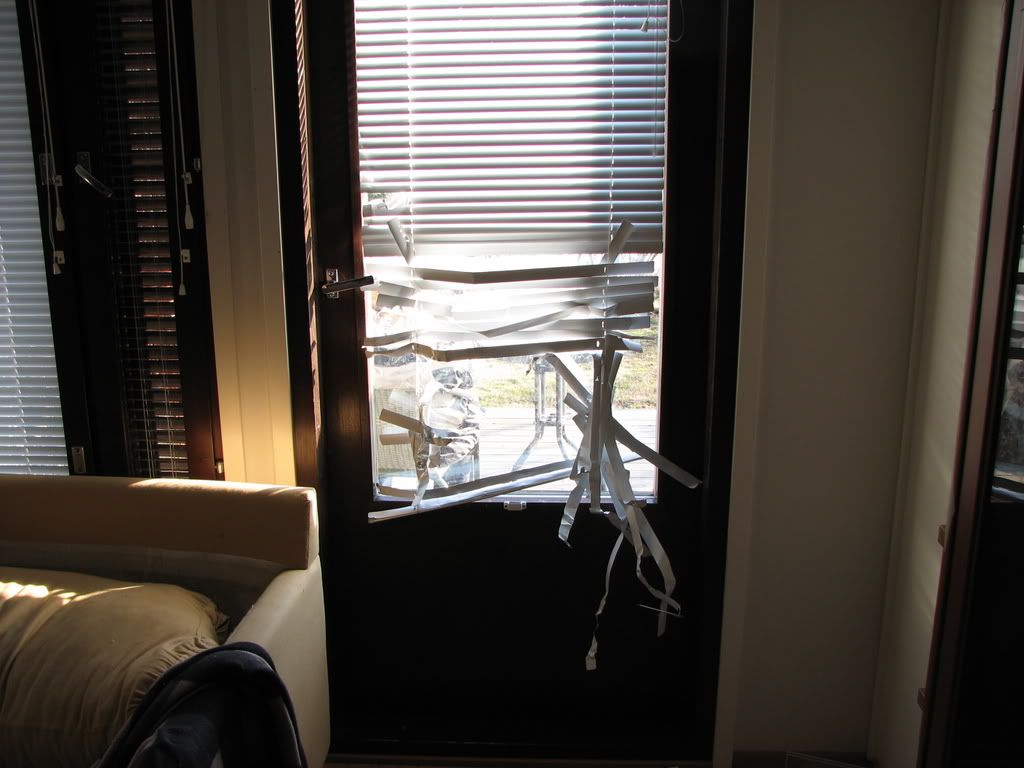 In our neighbor those two <?xml:namespace prefix = st1 ns = "urn:schemas-microsoft-com:office:smarttags" />Chihuahuas are barking to him every time when we are outside. Pancho has learned to not to bark at them because we are telling him not to, but those Chihuahuas has to stop barking at him! This is very stressful situation for him! He can never be relaxed in our yard when there are two dogs yelling him. I hope our neighbors will learn how to make their dogs stop that.
<?xml:namespace prefix = o ns = "urn:schemas-microsoft-com:office:office" />
On Thursday we are going to Jyväskylä to my moms' house. There Pancho can run free and enjoy the sun without anyone barking at him. Maybe this trip will relax him. We will have our winter holiday on week 15 and that means that after Jyväskylä we will drive to Haapavesi to visit Paulis' mom and from there we will go to Oulu to visit his father. Long driving ahead, but gladly Pancho likes to be in the car. We will come back so that we will have few days in peace at home before going to back to work again. Here are some pictures of Pancho we have taken. Our new camera is much more better than the old one was.. :) Too bad that our Internet from home doesn't work. It might still take few weeks before they open it. It is weird to be without Internet..  
Silver fang (hopeanuoli) moment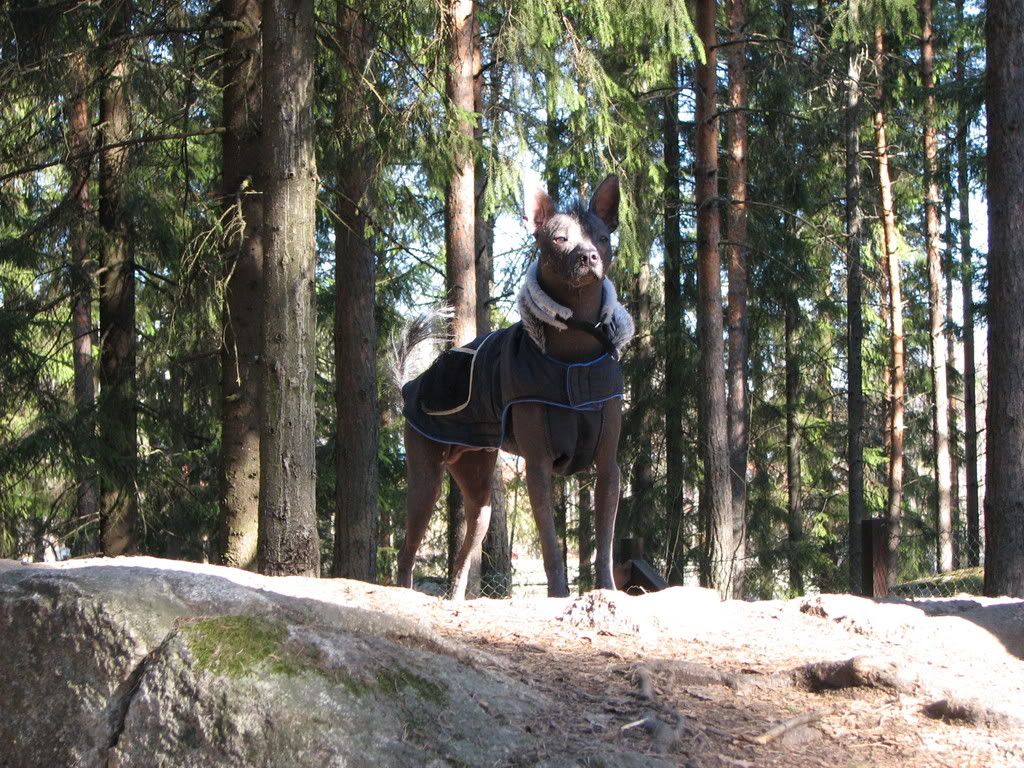 King of the hill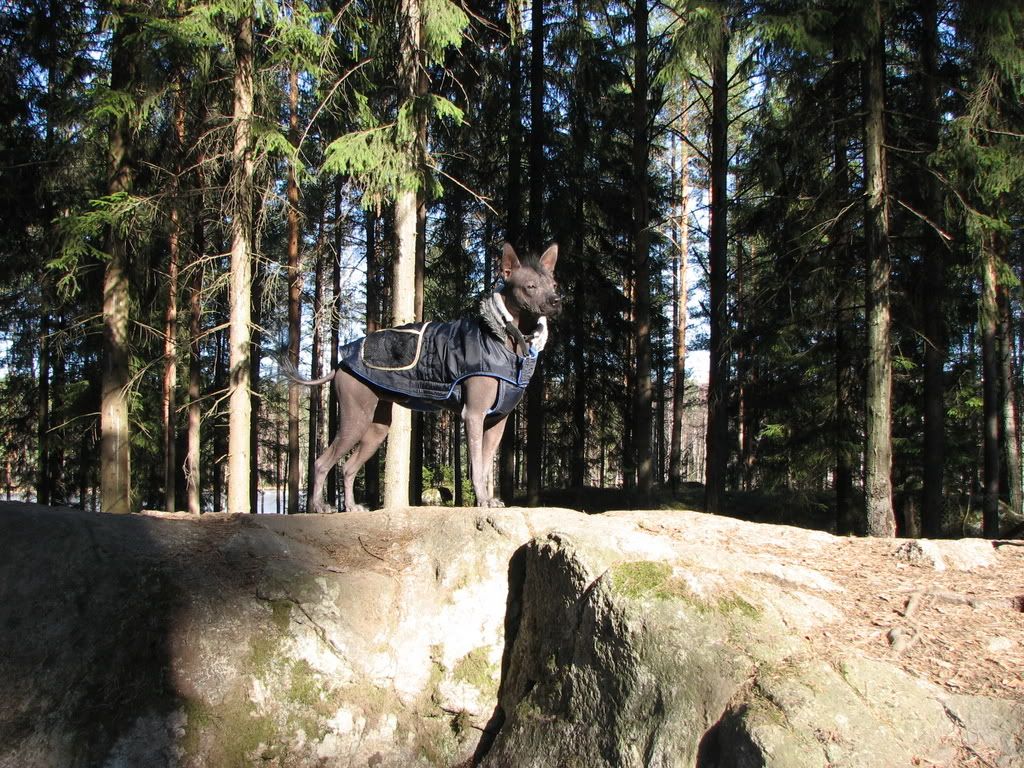 Somehow these pictures didn't keep their original shape. You can find these pictures also from http://s85.photobucket.com/albums/k59/Jozanna/ There is also some pictures that are not here.
-Jozanna